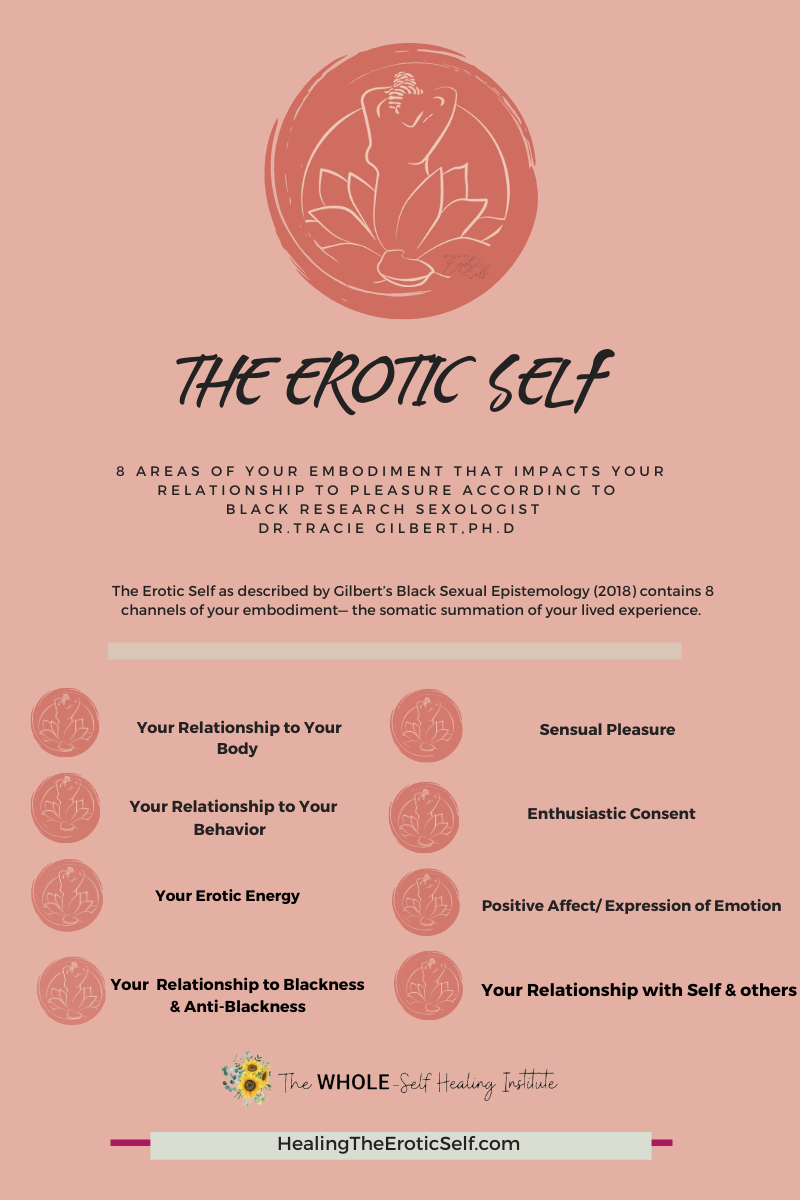 Healing the Erotic Self
About The Coaching Program
Sexual pleasure is an uninhibited lived experience of the erotic, the relationship between the senses and The Erotic Self.  Additionally, sexual pleasure is a multi-layered lived experience outside of the attainment of orgasms & penetration. In other words, sexual pleasure is the manifestation of what is erotically enjoyable to you via your sense of self and your senses.
From the contemporary sexuality research of Tracie Gilbert, Ph.D. (2019), The Erotic Self is the sex-positive and queer & body affirming embodiment of the Black (U.S.) sexual experience. This embodiment consists of eight (8) areas of one's lived experience. Those areas include a person's (1) relationship to their body; (2) relationship to their behavior; (3) erotic energy; (4) relationship to Blackness and anti-Blackness; (5) relationship to sensual pleasure; (6) mental excitement; (7) positive affect; & (8) relationship to Self & others.
Healing the Erotic Self is the understanding that honoring the lived experience and having a body-based (somatic) approach is rooted in the need to include and not exclude or separate the relationship between the mind and body with the complexities of race, ethnicity, gender, and sexual attraction for marginalized groups for the purpose of sexual healing.  Sexual healing is the therapeutic, spiritual, and emotional transformation of one's erotic self (Meyers, 2014; Gilbert, 2018).
Unfortunately, there are few existing spaces that center and affirm the sexual healing of Black folk. As a sexual-spiritual womxn, Healing The Erotic Self Life Coaching Program  creator, Mx. Lena Queen, LCSW, M.Ed. realizes the importance of creating a space that challenges misinformation, shame, guilt, and the impact of trauma or disempowerment that is too often part of the experience of Black women, femmes, & folx of desirability, pleasure, and fulfillment.
Lastly, this erotic coaching program using the healing manifesto by Audre Lorde, Uses of the Erotic, to provide a framework in which the erotic can not only be channeled for the Black sexual healing and Black sexual liberation but this wisdom, without erasing those it is centering, can also be used to assist others marginalized bodies and communities in their sexual healing practice & journey.
With Queen's coaching and guidance, participants of this erotic coaching program will:
Learn how to use the erotic to transform their healing practice.
Improve their mind-body relationship for intuitive healing.
Discover how to disrupt and dissolve harmful self-limiting beliefs.
Develop a system of self-care that empowers their personhood and reclaims their relationship to desirability, pleasure, & fulfillment.
Coaching Modules include:
Module 1: Uses of the Erotic: Healing The Erotic Self
Module 2: Speak Life: Dissolving Self-Limiting Beliefs & Activating Self-Compassion as a Healing Practice
Module 3: The Erotic Self: Honoring Your Lived Experience
Module 4: Cleanse, Protect, Replenish: Healing Your Erotic Energy
Module 5: Erotic IQ: Discovering Your Erotic Embodiment and Lovership
Module 6: Liberated Living: Developing a System of Self-Care to Honor Your Sexual Liberation
healing
Healing is both/and. Healing does not look the same for melanated people as for non-melanated people. Healing is complicated and compassionate. Healing is not always about peace, but the ability to return to peace.
discovery
Activating self-compassion and courage, discover how to name your desires & create a sacred erotic healing practice.
Pleasure
Pleasure-activism is not just word play. It is how we live and what we embody. Pleasure is our birthright and we are here to reclaim.
coaching
Coaching is skill-building and support. This program will complement most healing practices including therapy. It is not a replacement for therapy.
Touch & Erotic Intelligence
The mind-body connection is required to experience pleasure. Our focus on integrating the erotic with body-based practices is foundational to healing AND thriving.
Connection
Our ability to give AND receive pleasure is based on our Connection to Self & others. This connection becomes who we are as lovers.
Re-connect to your body by reclaiming your relationship to pleasure with the healing practices of sensuality, joy, & eroticism.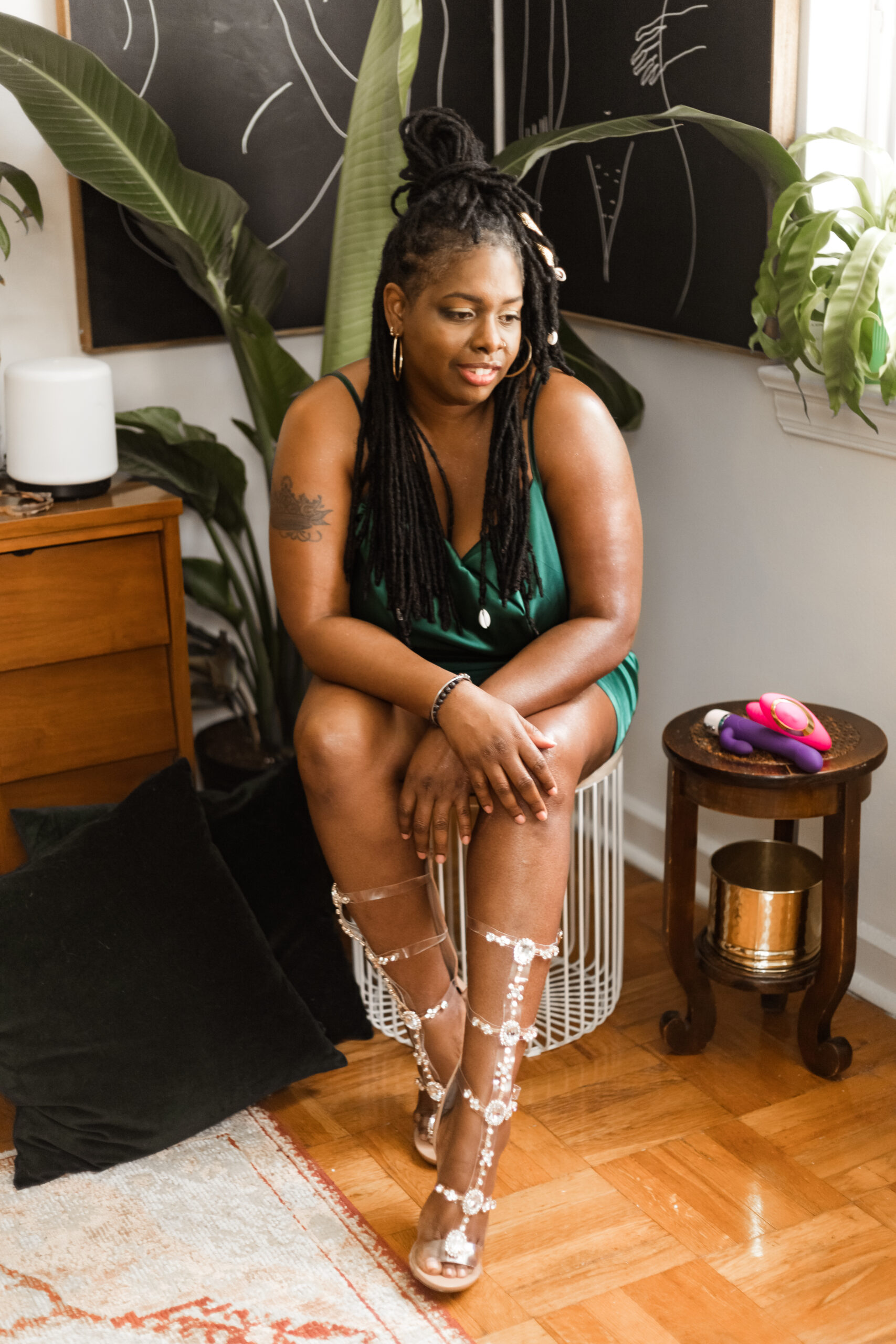 The audacity to be Black of African American descent, to be queer in a way Womanism often ignores, to be genderfluid in a binary world. There was so much unlearning I had to do to show up today as my WHOLE-Self. The policing of Black bodies often means our death. Capitalism, colonialism, & anti-Blackness all wanted me to fail-yet, here am I. With Healing The Erotic Self Life Coaching Program, I give to you some of my most intimate and transformational learning. I give out of the audacity to choose me and to be better for it. That is not to say I don't struggle or in your journey there won't be struggle. It is to say have the audacity to center yourself and prioritize yourself the way others have prioritize themselves. Self-care is not selfish. Self-care is the act of self-preservation.
As Ancenstor Audre Lorde proclaims: "Caring for myself is not self-indulgence. It is self-preservation, and that is an act of political warfare."
(re) Connecting to your whole self